Looking for the lowest rate and payment? An ARM loan could be perfect for you.
Adjustable Rate Mortgages (ARM) offer a fixed interest rate period followed by adjustments in interest rate at pre-determined intervals thereafter. As such, they often come with some of the lowest interest rates available up front! While not right for every lending scenario, they're very popular with short-term buyers as they offer the least expensive mortgage payment possible.
Key Features of ARM Loans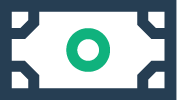 Lower Interest Rates Than Fixed-Rate Loans
Because the fixed interest rate portion of the ARM loan is for a much shorter time than more traditional fixed-rate loans, lenders are able to offer lower rates during that period.

Ideal For Frequent Movers
If you relocate often for work, military service, or any other reason, ARM loans are a great way to make sure you pay the least amount of interest on your loan during the fixed-rate period of the loan.

Low Monthly Payments
ARM loans start off with very low interest rates during their fixed-rate period. Lower interest rates make for lower monthly mortgage payments.
What is an ARM Loan?
If you plan to move to a new home, an ARM home loan is a great option that you should consider. The period which your interest rate remains fixed is lower than more traditional loan programs. As such, the interest rate is often lower by comparison. Having the lowest rate available with an ARM allows you to potentially pay thousands less over a traditional fixed rate mortgage for the first few years of your loan.
Additional Benefits and Options of ARM Loans
5/5, 5/1, and 10/1 ARMs available.
2% is the maximum increase for the first change.
Seller help up to 3%.
Cash reserves have no minimum.
Offered for single family homes, condos, PUDs and 2-4 units.
Why trust Southern Trust with your home financing?
Founded in 1998, Southern Trust Mortgage is a full-service mortgage lender. We offer diverse mortgage products designed to meet any home financing need. Our continued success is a result of the outstanding customer service we offer our clients and business partners. All of our loans are expedited through local processing, underwriting, and closing agents. Our industry-leading service truly sets Southern Trust Mortgage apart.

In business since 1998
Very competitive interest rates
Over 65,000 loans closed

In-house underwriting, processing and funding

Licensed and experienced mortgage loan officers.

Focused on developing relationships and trust.
Read the latest articles from our team